PORTSMOUTH, RHODE ISLAND, December 10, 2022: Portsmouth Abbey Wrestler and Co-Captain Garrett Roskelly recorded a career combined high school and club milestone of 100 wins.
The competition stopped briefly to recognize Roskelly's accomplishment in an announcement by Portsmouth Abbey Athletic Director Chris Milmoe.  Roskelly is a fourth-year wrestler from Portsmouth, RI, and competes in the 165-pound weight class this season. "Garrett Roskelly breaking the 100-win barrier is a great accomplishment in normal times," said Director Milmoe, "but Garrett didn't wrestle for Portsmouth Abbey during normal times. He overcame the challenges presented by the pandemic, stayed on course, and had a remarkable high school career. That is an extraordinary accomplishment, in addition to this 100th win."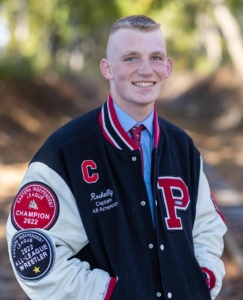 "Roskelly's accomplishments have gained notice beyond the Ocean State. He was recruited by several collegiate programs and recently committed to Elmira College [New York]. More importantly, he is a leader on the team. He never settles and works to improve constantly. He always treats his opponents with great respect. Roskelly is a good example of the values we hold high here at Portsmouth Abbey. We are certain that he will be a positive reflection on our institution in college and beyond."
In addition to wrestling for Portsmouth Abbey, Roskelly has competed year-round with IronFaith Wrestling Club since 2019. From June through August of 2022, he wrestled 59 matches, competing all over New England and the mid-Atlantic (New Jersey, New York, and Pennsylvania). He attributes his success to "keeping focused on every match, one at a time."
"Garrett is an exceptional wrestler and an even better teammate. One of the things that amaze me about Garrett is his desire to compete. He competed in far more tournaments than any of my wrestlers at Iron Faith. Garrett is always looking to improve on and off the wrestling mat, and I'm excited to have been able to be a part of his wrestling journey." – Ebed Jarrell, Head Wrestling Coach  Iron Faith
Garrett started the evening quad match with a pin against Lucas Ng from Lexington Christian Academy. Then with a forfeit win against Marianapolis Prep, Garrett achieved his career 100-win. He then went on to garner win 101, ending the day with another pin against the wrestler Joel Lawore from the St. Marks school.
Mike McLarney stated, "Anytime you can get a wrestler to that 100-win milestone, it's a big deal in this sport because it's a grind. He's worked hard year-round for the Abbey and his club wrestling, and it shows. When covid19 hit in 2020, Garrett found a way to keep practicing and wrestling matches. Garrett has a unique wrestling style all to his own; his ability to outlast and out-wrestle competitors in the third period is something to watch. This year should be a special one for him."
Coach CJ Bostwick, Elmira's Men's Wrestling, offered his congratulations via text and added, "I can't wait to have him on the campus and our mats in the fall!"
Roskelly chimed in, "I am extremely excited to be admitted into the mathematics program at Elmira and to be able to continue wrestling for Coach Bostwick for the next four years."
Roskelly finished by thanking his teammates for their support and recognizing their collective accomplishments, "Portsmouth Abbeys 2022-23 team is coming together perfectly. We're better than ever. We have 29 wrestlers filling the roster, and the girls' side is growing yearly. We're looking good, and I am happy to be a member of this team."
Portsmouth Abbey School, established in 1926, continues to flourish as the nation's leading co-educational Catholic Benedictine boarding school for 360 students in grades 9 through 12. Unique in its English Benedictine tradition, the School offers a challenging academic curriculum rich in mathematics and science and built upon a signature humanities program.
Iron Faith Wrestling, Judo, & Jiu-Jitsu Club provides programs that fit your age and skill level. Our goal here at Iron Faith is to positively impact our athletes through Wrestling, Judo, and Jiu-Jitsu. We are transforming our community in Rhode Island by allowing kids and adults to learn a new skill while staying physically active.