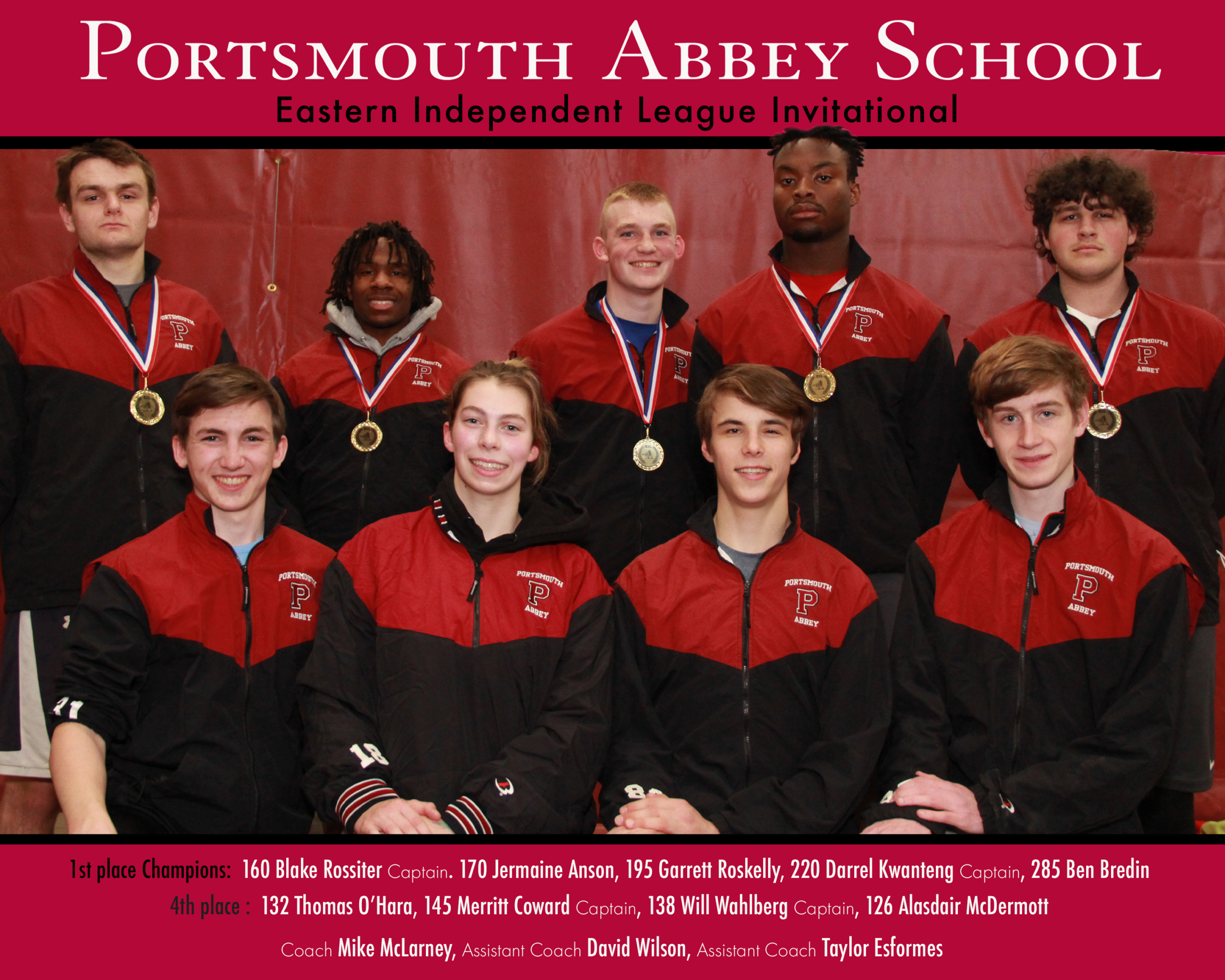 Congratulations to our 5 Champion wrestling Ravens at the Eastern Independent League Invitational Saturday, March 12. Captain Blake Rossiter '22 at 160, Jermaine Anson '23 at 170, Garrett Roskelly '23 at 195, Captain Darrell Opoku-Kwanteng '22 at 220, and Ben Bredin '23 at 285. Portsmouth Abbey placed third overall with the help of our fourth place wrestlers, Captain Merrit Coward '23 at 145, Captain Will Wahlberg '22 at 138, Alasdair McDermott '22 at 126 & Tommy O'Hara '24 at 132, after some hard-fought matches.
"This is the first time The Portsmouth Abbeys wrestling team has 5 champions going to the New Englands, all of their hard work and sacrifices brought them to this point. I am excited to see this team spirit and dedication grow in our Abbey wrestling family" Coach Mike McLarney
A recap of the Champion matches: Blake Rossiter took on Josh Bickford of Landmark School and won his match in 5:45 with a pin. Jermaine Anson took first place in his final round with a pin at 3:55 against Finn Boyle of Concord Academy. Garrett Roskelly was victorious against Cameron Dike of Eagle Hill with his pin at 2:39. Darrell Opoku-Kwateng swiftly defeated Concord Academy's Grady Savage for the win a pin in 0:46. Finally, Ben Bredin defeated his opponent from Chapel Hill-Chancey Hall in a close final 5-4 decision. 
Our five champions, along with three wrestlers in the Girls' Division of the New England Tournament, Daniela Gasso '24, Mary Adams '24, and Merritt Coward '23, will continue to the New England tournament Saturday, March 19, 2022, at the Deerfield Academy, 7 Boyden Ln, Deerfield, MA
Below are the video links to their final champion matches
195
Garrett Roskelly
Final
220
Darrell Opoku-Kwanteng
Final